I have been dying to try Richmond for months! Each Tuesday the menu from Head Chef David O'Byrne changes from their lunch and dinner menu to a 5 course tasting menu. The contemporary casual dining restaurant in Portobello, (located beside my favourite Mexican shop, Picado), was recently awarded a Michelin Bib gourmand, for "good quality and good value", and it well deserves it!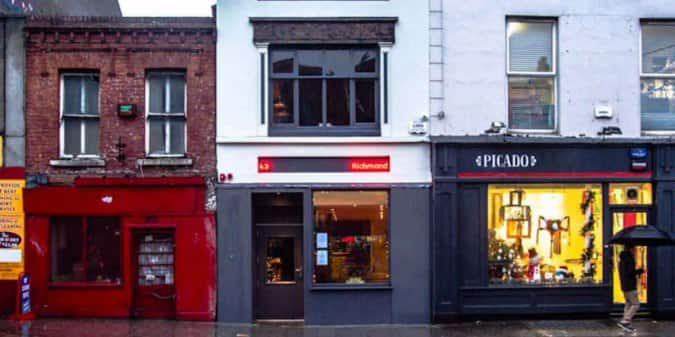 Our 5 courses kicked off with a Cauliflower and parmesan croquette, roasted cauliflower and  raisin. I'm a big fan of cauliflower but this was next level and proof that if you put something in a croquette it will taste infinitely better.
Next up was some beautiful crisp pastry topped with fig, oyster mushroom, spinach and a chestnut puree. The pastry was so light and crispy and tasted amazing with the mushroom topped fig. The silky chestnut puree really tied everything together with it's slight nutty taste.
Following this we had our fish course of baked razor clam, garlic, shallot, parsley and picked fennel. Razor clams are not something I've ever tried and was really impressed. Served in the shell and topped with the fennel this is the nicest fish dish I've had in ages.
Then the meat… Slow cooked pork cheek, gnocchi, root vegetables and black cabbage. The pork was outstanding and fell apart upon impact with your fork. Some times slow cooked meat can dry out but this was so succulent. And the gnocchi, oh man! So light, so tasty, so good!
I really didn't think the last dish could be topped but when the chocolate, honeycomb and pistachio cream appeared I knew this meal was complete. The honeycomb melted when it hit your tongue and tasted sublime.
This is by far one of the best meals you will get for this price, or any price, in Dublin. I'll definitely be going back, especially if recent weeks are to go by. Recently 4 of the 5 courses were lobster based. Before that some delicious pumpkin dishes. Every week looks great!